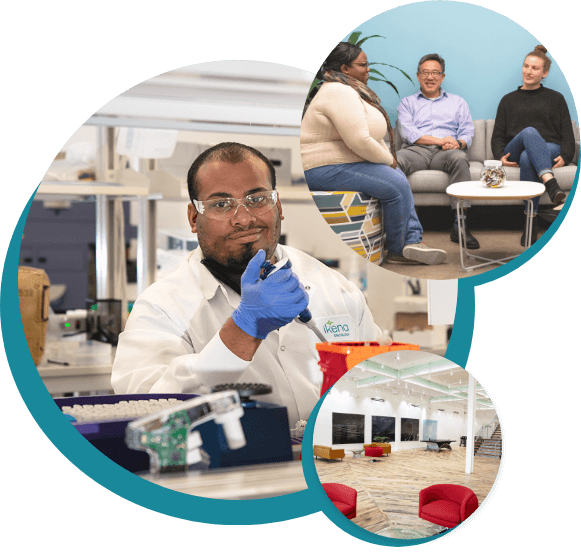 At Ikena®, our team is collaborative, passionate about making a difference in the lives of patients, and willing to push conventional boundaries within targeted oncology. We leverage the unique perspectives of every team member to help us fully realize our shared vision of a world in which every patient with cancer has a cure. Care and compassion are the cornerstones of everything we have done and aim to achieve.
Be deliberate and relentless in pursuit of our mission.
Be generous in sharing time and talents with others, leverage the unique perspectives of those around you, and have fun.
Be curious, have the confidence to take strategic risks, and find opportunities to innovate.
We all support the hive by working collaboratively with one another, bringing our authentic selves to work, and fostering a strong sense of community. We value our opportunities to come together in person and encourage on-site presence at certain events and meetings to build connectivity and enable discussion around key topics and initiatives.

Equally as important, we recognize the adaptability and resilience our team has shown these past 2 years; hybrid working has become, and will continue to be, a core component of our culture. We will continue to value the pursuit of patient impact rather than the number of hours our team spends in the office each week. We fully trust our teams and empower them to shape their work so they can maximize their impact.
We have team members that work within a true hybrid setting and others who work in our state-of-the art, newly designed labs in Boston. All Ikenians are committed to being culture champions, nurturing relationships across the organization, and driving ourselves and our colleagues to significantly impact the patients we serve. Whether we are face-to-face or virtual, our team remains connected to our mission and to each other.
"I am extremely grateful that Ikena provided me an exciting and challenging environment to grow both as a scientist and as an organizational builder, from the initial program lead, to building out the translational research and early development function from scratch, and now as the CSO. It has been an incredible journey where my thirst for continuous learning is met and encouraged."
— Michelle Zhang, Ph.D.
Chief scientific officer
"Throughout my tenure at Ikena, the company has provided ample opportunities to continue learning and growing in my career, particularly in the
in vivo
pharmacology field. The collaborative, inclusive, and diverse culture at Ikena makes coming to work every day enjoyable and rewarding. It is truly special to contribute to cutting-edge science and have fun while doing it!"
— Victor De Jesus, B.S.
Cancer Biology
"The culture at Ikena is growing with the company. Working alongside talented colleagues with high intellectual curiosity, where differences in thoughts, cultures, and ideas are encouraged makes coming to work every day enjoyable. I believe in our patient focused approach, and I am excited for the future."
— Prabitha Natarajan, Ph.D.
Cancer Biology
"At Ikena, our talented scientists work tirelessly to create and develop new drugs that could make a meaningful impact on cancer patients today and for generations to come."
— Alfredo Castro, Ph.D.
Drug Discovery
Ikena takes pride in providing ample opportunities for employees to grow and progress in their roles and maintain a healthy work/life balance through a competitive benefits program. See some of the highlights below.
100% coverage of insurance premiums
Generous paid time off policy with anniversary-tied accrual increases and flexible sick days
12 paid holidays, including Ikena's Founding Day
Health Savings Account (HSA) with generous company contribution
Pre-tax and Roth 401(k) program with 4% company match
Tuition reimbursement program
Partnership with Blueboard to offer experiential anniversary and milestone celebrations
Free subscription to Headspace
Quarterly company-sponsored cross-functional team events
Access to courses through Harvard Medical Extension School (HMX)
Monthly gym reimbursement
Catered lunches 5x per week
Company-wide "Buzz" meetings
Learn more about our exciting career opportunities where you can make a difference.